Check it Out - July 7, 2016
Thursday, July 7, 2016
You are receiving this email because you have subscribed to the Check It Out email newsletter from Madison Public Library. For all up-to-date library news, visit the Check It Out blog. To unsubscribe, follow the instructions at the bottom of this email. Questions? contact madtech@madisonpubliclibrary.org
Friends of Sid Boyum Highlight Local Artist's Work
Hawthorne, Saturday, July 9, 1pm
The Sid Boyum Sculpture Project, a film by Gretta Wing Miller, is a documentary following the course of a public art project on Madison's near east side, where residents became curators for a collection of concrete sculptures by artist Sid Boyum. Following the film, Friends of Sid Boyum representatives, Karen Bassler and Teri Marche, will give a short presentation on current preservation efforts. Please call Hawthorne Library at 608-246-4548 to reserve seats.
Pinney, Thursday, August 11, 6pm
Pinney Library will be showing recently discovered, cleaned and digitized short films that Sid Boyum filmed and edited. See these films in their first ever public screening, as well as slides of his artwork. Bring your Sid stories to share and enjoy stories from community members. Members of Friends of Sid Boyum will be on hand to discuss all things Sid Boyum, including the current conservation efforts to save his art.
"Sid Boyum was a Madison legend, one of those manic Wisconsin folk artists who just can't help themselves from churning out fascinating, ambitious works of art. You've probably seen his work around town: the Man-Eating Mushroom and Red Dragon along the bike path by the Harmony Bar and Grill, the Polar Bear chair in Elmside Circle Park, the wallowing Hippo in Wirth Court Park. These were all distributed around the Schenk-Atwood-Starkweather-Yahara neighborhood as part of a previous effort to conserve and publicize his art, after Sid's death in 1991." -friendsofsidboyum.org
Light refreshments will be provided by the Friends of Pinney Library. There is room for 50 guests on a first come first serve basis. This event is offered in partnership with Friends of Sid Boyum and the Wisconsin Center for Film and Theater Research.
Fun for Families at Summer Carnival and Concert & Picnic
Celebrate summer reading at two great events this summer, our Carnival & Concert event with Justin Roberts and Concert & Picnic event with Dave Landau.
Enjoy a performance by two time Grammy nominee and children's book author Justin Roberts at 10:30 am or 2:00 pm at Overture Center for the Arts. Following the performance, Justin will be signing and selling merchandise in the Overture Center Library. Next, stop by the Library for carnival games, crafts, a scavenger hunt, and more! Plus - outdoor play and bubbles! 11:30 am - 1:30 pm at Top of State, Philosophers' Grove, 100 W. Mifflin St. Want to bring a whole group of kids? Call the library's Central Youth Services Desk at 266-6345 for details.
On Tuesday, August 2, 6:00-8:00 pm, swing by Olbrich Gardens with a picnic supper. Play with bubbles and make a project at 6:00 pm before settling down for a 7 pm concert with Dave Landau. Sponsored by Overture Center for the Arts' Kids in the Rotunda.
Harry Potter Day at The Duck Pond
Support the Pinney Library Capital Campaign on Sunday, July 31st at 4:05 p.m. as the Madison Mallards take on the newest member of Slytherin House, the Green Bay Bullfrogs.
Celebrate Harry Potter's birthday with the Mallards, who will be wearing custom Hogwarts-themed jerseys (available through a silent auction during the game) and running wizarding inspired activities all evening long. July 31st is also the release of JK Rowling's new book "Harry Potter and the Cursed Child, Parts I and II", which will be available for sale from A Room of One's Own during the game. This exciting new book picks up the wizard's story 19 years after the final novel in the series. Come in costume to celebrate Harry Potter's birthday, the release of the new book and to support Pinney Library.
Tickets in the Grandstand will be sold at $15 and tickets in the Backyard at $13, each including a Mallards hat and a hot dog*. $5 from every ticket purchased will benefit Pinney Library. Visit the Madison Public Library Foundation web site to buy tickets and learn more about the event.
Harry Potter fans can also join us for a free Potter-themed Harry Potter Birthday Party, July 29, 2-3:30 pm at the Central Library
More Library Events
International Independent Film Series
SEA FOG (South Korea) - Friday, July 8, 7-9pm , Alicia Ashman Library
THEEB (United Arab Emirates) - Friday, July 15, 7-9pm , Alicia Ashman Library -
Family Fun Nights
BAT Conservation of Wisconsin - Friday, July 8, 6:30-7:30pm, Goodman South Madison Library
Family Movie Night: The Lion King, Friday, July 15, 6:30-7:30pm, Goodman South Madison Library
Meet Your Makers
Carli Ihde: Saturday, July 9, 10am - 1pm, Central Library
Emida Roller: Saturday, July 16, 10am - 1pm, Central Library
Friends of Sid Boyum -- film showing and information
Saturday, July 9, 1-4pm, Hawthorne Library
Read with a Cop
Monday, July 11, 2:30-3:30pm, Alicia Ashman Library
Read with a Cop
Monday, July 11, 2:30-3:30pm, Sequoya Library
The Tiny Book Show Exhibit
Tuesday, July 12, 9am-5pm, Central Library
Tiny Book Show Workshop: Make a Tiny Book
Tuesday, July 12, 6-7pm, Central Library
Cuentos y Canciones en Español/Stories & Songs in Spanish
Tuesday, July 12, 10:30-11:15am, Hawthorne Library
One World, One Sound Drum Circle
Tuesday, July 12, 2-3pm, Lakeview Library
Eating Smart -- Being Active
Wednesday, July 13, 6:30-7:45pm, Meadowridge Library
Craft with a Cop
Thursday, July 14, 2-3pm, Goodman South Madison Library
Star Wars: The Library Awakens
Saturday, July 16, 10am-12pm, Pinney Library
Star Wars: The Force Awakens movie screening
Saturday, July 16, 2-4pm, Pinney Library
Library Book Sales
Support your favorite library and one of many Friends' groups by selecting great deals at one of six upcoming book sales hosted by Libary Friends' groups before the end of the year.
For more sales, visit the library's Book Sales page.
Friends of the Madison Public Library Summer Book Sale
Thursday, July 14 - Saturday, July 16
Find great bargains for your home library and support the library! This sale features books, DVDs and other materials of all types with a special emphasis on science fiction and books for children and teens - perfect for vacation reading. Most items are $2 or less. Hosted by the Friends of the Madison Public Library. This is a multi-day sale. Sale hours: Thursday, July 14, 9 am - 9 pm, Friday, July 15, 9 am - 6 pm, Saturday, July 16, 9 am - 4:30 pm (bag sale 2-4:30pm - $5/bag).
Friends of Lakeview Library Vinyl Sale
Friday, July 15-Saturday, July 16
Support the library by shopping at our first vinyl sale! Donations of records of all sizes (33 1/3, 45, 78), as well as CDs, sheet music, music magazines, or anything else related to music, will all be welcomed. Donor forms for tax purposes are available at the library. Donations may be brought to the library any time during open hours. If needed, pick-up may be arranged by contacting Tim Nelson: call or text 512-6666. Friday hours 6-7:45pm (for members only, memberships available at the door) and Saturday, July 16, 9am - 4pm for the general public.
Friends of Sequoya Library Book Sale (at Westgate Mall)
Saturdays, July 16, August 6, 9am-4pm
Thousands of books for sale each month. Most books are donations, some library withdrawls also for sale. Nonfiction titles are sorted by category for easy browsing. Fiction titles for all ages! CD and DVD selections as well. Bag sale (on selected items) starts at 2 pm.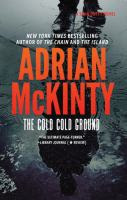 The Cold, Cold Ground
by Adrian McKinty
This is McKinty's first book in his Sean Duffy series and introduces RUC (Royal Ulster Constabulary) detective Sean Duffy working in Northern Ireland in 1981 at the height of the "Troubles". Sean is a rarity, a Catholic working in the mostly Protestant force, who has made the rank of sergeant at a young age and is assigned to the station in Carrickfergus. As the book opens he's called out to the scene of a murder, which initially looks like a politically motivated killing, but soon begins to seem like the first for a burgeoning serial killer. As Sean delves into the murder he becomes entangled in the political and military maneuvering of the IRA, the Protestant UVF and all the official agencies keeping an eye on them. Reviewed for MADreads by Jane J. on June 28, 2016.
Vinegar Girl
by Anne Tyler
Hogarth Press has launched an intriguing new series that enlists some notable literary and popular authors to do their best with the Bard's plots. Anne Tyler takes on the challenge of The Taming of the Shrew, one of the most popular of Shakespeare's comedies and especially thorny one, with her novel Vinegar Girl. Most everyone knows the plot: a father has two daughters, one of which, Bianca, is 'the hot one' that suitors can't stop drooling over, and the elder Kate, who is difficult and contrary to the extreme. Trouble is, Kate must marry before her father will even consider letting Bianca get hitched. The swaggering Petruccio steps in, takes up the challenge and through treachery, cajoling, and various other methods which might rankle modern audiences, breaks Kate into an obedient, docile wife—maybe. It all depends on the perspective, which makes Shrew such a juicy opportunity for a modern author to adapt. Reviewed for MADreads by Katie H. on June 29, 2016.