Check It Out - July 20, 2016
Wednesday, July 20, 2016
You are receiving this email because you have subscribed to the Check It Out email newsletter from Madison Public Library. For all up-to-date library news, visit the Check It Out blog. To unsubscribe, follow the instructions at the bottom of this email. Questions? contact madtech@madisonpubliclibrary.org
Fun for Families at Summer Carnival and Concert & Picnic
Celebrate summer reading at two great events this summer, our Carnival & Concert event with Justin Roberts and Concert & Picnic event with Dave Landau.
Enjoy a performance by two time Grammy nominee and children's book author Justin Roberts at 10:30 am or 2:00 pm at Overture Center for the Arts. Following the performance, Justin will be signing and selling merchandise in the Overture Center Library. Next, stop by the Library for carnival games, crafts, a scavenger hunt, and more! Plus - outdoor play and bubbles! 11:30 am - 1:30 pm at Top of State, Philosophers' Grove, 100 W. Mifflin St. Want to bring a whole group of kids? Call the library's Central Youth Services Desk at 266-6345 for details.
On Tuesday, August 2, 6:00-8:00 pm, swing by Olbrich Gardens with a picnic supper. Play with bubbles and make a project at 6:00 pm before settling down for a 7 pm concert with Dave Landau. Sponsored by Overture Center for the Arts' Kids in the Rotunda.
Monroe Street Library Closed

July 27-29
The Monroe Street Library will be closed Wednesday, July 27 through Friday, July 29 for a replacement of its heating and air conditioning system. The library will reopen regular hours on Saturday, July 30, 9:30am –5pm.

Monroe Street Library customers are encouraged to contact library staff at 608-266-6390 before July 27 if they require assistance in transferring their holds to another location during the closure or to suspend their holds until the Monroe Street Library reopens on July 30. Any items that are being held at the Monroe Street Library when the library closes on Tuesday, July 26 at 6pm will be available for pickup at Sequoya Library (4340 Tokay Blvd., 608-266-6385) beginning Wednesday, July 27 at noon. Holds will be returned to the Monroe Street Library on Saturday, July 30.
Monroe Street Library customers may return library materials to Monroe Street Library until Tuesday, July 26 at 6pm. The book drop will be closed when the library is closed for repair. During this time, customers may return items to the Sequoya Library or any other public library in the South Central Library System. Customers may contact any Madison Public Library location or use the library's automated Telecirc service at (608) 242-4700 to renew items.
The following events will be affected by the closure:
Make Something at Your Library with MakerCorps – Wednesday, July 27, 2:30pm - cancelled
Monroe Street Library Book Discussion – Wednesday, July 27, 7pm – relocated to HotelRed
Summer Reading Club participants may go to any other Madison Public Library to pick up reading prizes during the closed days.
Maker Corps Comes to Madison Public Library
The Bubbler is excited to be a 2016 Maker Ed Maker Corps placement site. A non-profit organization that supports and empowers educators and communities, Maker Ed is working with the Bubbler to facilitate making and learning experiences for youth, particularly those in underserved areas, all across Madison.
Through a partnership grant with Maker Corps, the Bubbler is excited to expand its hands-on learning and tinkering workshops for children and families to all nine Madison Public Libraries and several community partners this summer.
With drop-in sessions in beginning screen printing, circuit blocks & paper circuits, sock monsters (with basic sewing skills!), strawbees geometric sculptures, engineering mystery box challenges, stop motion animation, or MakeyMakey invention machines, there will always be something new to explore and learn at your library this summer.
The Bubbler has added two incredibly talented Maker Corps artists to our team his summer:
Angela Johnson, a visual artist with a Master in Fine Arts and Arts Education, was the previous Arts Coordinator with the Madison Children's Museum. She is excited to connect with the greater Madison community in our library spaces!
Pascale Ife Williams, a graduate student in the school of Human Ecology, is co-founder and teaching artist of Art Forward in Chicago. Ife is eager to contribute to the meaningful, innovative, and mind-shifting community projects she sees happening in Madison Public Libraries.
Follow along on their blog as they share their summer making experiences, or stop in and experience Maker Corps in person!
More Library Events
Eating Smart -- Being Active
Vary your Veggies: Wednesday, July 20, 6:30-7:45pm, Meadowridge Library
Make Half Your Grain Whole: Wednesday, July 27, 6:30-7:45pm, Meadowridge Library
Sequoya Summer Movie Matinee: Goosebumps
Thursday, July 21, 2-4pm, Sequoya Library
Digital Preservation 101
Thursday, July 21, 6-8pm, Sequoya Library
Super Smash Bros. Teen Tournament Qualifying Round
Central Library - Thursday, July 21 2-6:30pm
Alicia Ashman Library - Thursday, July 28 2-6:30pm
Kids Code Madison
Thursdays, July 21-August 25, 6-8pm, Hawthorne Library
Big I, Little U: Fitness for the Whole Family
Friday, July 22 & July 29, 10:30-11:15am, Goodman South Madison Library
International Independent Film Series
AMOUR FOU (Austria) - Friday, July 22, 7-9pm, Alicia Ashman Library
SECRETS OF WAR (Netherlands) - Friday, July 29, 7-9pm, Alicia Ashman Library
The Benefits of Risky Play
Saturday, July 23, 2:30-4pm, Bubbler, Central Library
Mindful Mondays
Monday, July 25 & August 1, 6:30-7:30pm, Meadowridge Library
Meet with a Neighborhood Officer (Chat with a Cop)
Tuesday, July 26, 1-1:45pm, Goodman South Madison Library
A Wild Rumpus [in the park!] combined with Trash to Treasure
Tuesday, July 26, 2-4pm, Alicia Ashman Library
Little and Big Yoga Stories
Wednesday, July 27, 1:30-2:15pm, Hawthorne Library
Madison Travel Circle - Nepal: Traveling through the Land of Rumbling Giants
Wednesday, July 27, 6-8pm, Hawthorne Library
Sequoya Summer Movie Matinee: Minions
Thursday, July 28, 2-4pm, Sequoya Library
Craft with a Cop
Thursday, July 28, 2-3pm, Goodman South Madison Library
Library Book Sales
Support your favorite library and one of many Friends' groups by selecting great deals at one of six upcoming book sales hosted by Libary Friends' groups before the end of the year.
For more sales, visit the library's Book Sales page.
Friends of Sequoya Library Book Sale (at Westgate Mall)
Saturdays, August 6, 9am-4pm
Thousands of books for sale each month. Most books are donations, some library withdrawls also for sale. Nonfiction titles are sorted by category for easy browsing. Fiction titles for all ages! CD and DVD selections as well. Bag sale (on selected items) starts at 2 pm.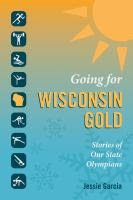 Going for Wisconsin Gold
by Jessie Garcia
U-S-A! U-S-A! That familiar refrain is heard in every Olympics, but truly it could be "Wis-con-sin! Wis-con-sin!" Since pioneering hurdler Alvin Kraenzlein got his Olympic start in the Badger State in the 1890s, Wisconsin has nurtured, trained, or schooled more than 400 Olympic athletes in a vast array of sports—from weightlifter Oscar Osthoff to gymnast Paul Hamm; from Jesse Owen's relay-mate Ralph Metcalfe to sailor Buddy Melges; and from hockey's Mark Johnson and Karyn Bye to speed skaters Dan Jansen, Eric Heiden, Bonnie Blair, Casey FitzRandolph, and more! In Going for Wisconsin Gold, author and sportscaster Jesse Garcia provides insights into the lives of athletes who grew up or spent time in Wisconsin on their journey to the Olympic Games. She shares some of their most captivating tales—from those that have become legend such as Dan Jansen's heartbreaking falls and subsequent gold, to unlikely brushes with glory. Featuring the athletes' personal stories, many told in detail for the first time, as well as pictures from private collections, Going for Wisconsin Gold provides a new, deeper understanding of the sacrifices, joy, pain, heartbreak, and dedication it takes to reach the world's grandest sporting competition. Meet author Jessie Garcia and several locally based Olympians as part of the Wisconsin Book Festival Event Series on August 2 at 7 pm at the Central Library.
Lithium Jesus: A Memoir of Mania
by Charles Monroe-Kane
Charles Monroe-Kane is a natural raconteur, and boy, does he have stories to tell. Born into an eccentric Ohio clan of modern hunter-gatherers, he grew up hearing voices in his head. Over a dizzying two decades, he was many things—teenage faith healer, world traveler, smuggler, liberation theologian, ladder-maker, squatter, halibut hanger, grifter, environmental warrior, and circus manager—all the while wrestling with schizophrenia and self-medication.
From Baby Doc's Haiti to the Czech Velvet Revolution, and from sex, drugs, and a stabbing to public humiliation by the leader of the free world, Monroe-Kane burns through his twenties and several bridges of youthful idealism before finally saying: enough.
In a memoir that blends engaging charm with unflinching frankness, Monroe-Kane gives his testimony of mental illness, drug abuse, faith, and love. By the end of Lithium Jesus there may be a voice in your head, too, saying "Do more, be more, live more. And fear less." Hear Charles Monroe-Kane read from Lithium Jesus at a Wisconsin Book Festival Event Series program on Friday, September 23 at 7 pm at the Central Library.