Booked for Teens - June 10, 2016
Friday, June 10, 2016
Support Madison Public Library at B-fest, Barnes & Noble's Teen Book Festival
Meet Madison Public Library's Teen Services Librarians at B-fest, Barnes & Noble's Teen Book Festival on Saturday, June 11!
Stop by to participate in some awesome (and free) activities, including: making a stop-motion book trailer, creating a bookmark, planting an herb garden, making a paper rose, trying a selection of board games, and adding to a community art project!
A percentage of proceeds from in-store sales all day June 11 support Madison Public Library and area community partners, or online from June 11-14. Use book fair code
11869971
to credit sales to Madison Public Library.
Schedule of Events:
9:00am-6:00pm
Madison Public Library Teen Services Bookfair
11:00am
B-First sneak peeks at new favorites
11:00am
Meet Angie Stanton, author of "The Jamieson Brothers" series
2:00pm
B-Part of the Fun
Check out the
Barnes & Noble event site
for all B-fest events.
Teen's Choice Award Titles
Check out a few of this summer's teen's choice award titles. More being added by Madison teens every day! Sign up online at mplteenschoice.org
Atlantia
by Ally Condie
Rio has always dreamed of leaving the underwater city of Atlantia for life in the Above; however, when her twin sister, Bay, makes an unexpected decision, Rio is left stranded below where she must find a way to unlock the secrets of the siren voice she has long hidden and save Atlantia from destruction.
The Boy in the Black Suit
by Jason Reynolds
Soon after his mother's death, Matt takes a job at a funeral home in his tough Brooklyn neighborhood and, while attending and assisting with funerals, begins to accept her death and his responsibilities as a man.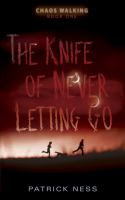 The Knife of Never Letting Go
by Patrick Ness
Pursued by power-hungry Prentiss and mad minister Aaron, young Todd and Viola set out across New World searching for answers about his colony's true past and seeking a way to warn the ship bringing hopeful settlers from Old World.
Ms. Marvel Vol. 1
by G. Willow Wilson
Growing up Muslim in Jersey City isn't easy. For a girl so desperate to fit in, 16-year-old Kamala only ever seems to be the odd one out, with the unusual food rules and strict family. Her only escape is her Avergers fan fiction - wouldn't it be cool to be like Captain Marvel? So tall and blonde and glamorous - only it's got to be the classic lightning-bolt costume with the thigh-high boots. Then Kamala would feel strong and confident and beautiful. But as her wise old Abu might tell her, be careful what you wish for. When the Terrigen Mists descend, Kamala gets a taste of the costumed life - but it's nothing like she expected.