Booked for Teens - April 1, 2014
Booked for Teens
Tuesday, April 1, 2014
New teen books and teen events and classes.
View more Booked for Teens: Blog View | Archived Newsletter View | Insider
Upcoming Events

Click here to find out what's happening this month in the Central Library's media lab and in the Bubbler.

Teen Tuesdays
Tuesdays, April 1, 8, 15, 22, & 29, 3:30pm-5:30pm -- Goodman South Madison Branch
Stop by this weekly after school teen drop-in session to mess around with a rotation of The Bubbler's art and technology projects.

MadCity Makers Meetup
Wednesday, April 2, 6:45pm-8:45pm -- Pinney Branch
MadCity Makers are a group of people who get together to master the art of creation in the modern age. Bring along something you are making to show and tell or project ideas you'd like to share. Check out our Meetup page for more info: http://www.meetup.com/MadCity-Makers.

One Life
Thursdays, April 3, 10, 17, & 24. 4:00pm-5:30pm -- Goodman South Madison Branch
Brought to you by UW's cutting-edge multicultural artistic program, First Wave, these weekly after school teen workshops will use hip-hop expression as a way to show youth they have a voice and it is indeed heard. [more info]

Chess Club
Thursdays, April 3 & 17, 4:00pm-5:00pm -- Pinney Branch
Learn how to play beginning chess and then play against other children with varied levels of experience. For children in grades K-12. Children under 7 must be accompanied by an adult.

Poetry Open Mic
Thursday, April 3, 6:00pm-8:30pm -- Central Library
Poetry Open Mic: 6:00-6:30 Mini Workshop, 7:00 Poetry Open Mic

STEM Fair: Explore Science, Technology, Engineering, and Math
Saturday, April 5, 9:30am-12:00pm -- Goodman South Madison Branch
Spend your morning having fun exercising your mind! Use MG&E's Pedal Power Generator; enjoy a Lego Robotics Demo! Discover the "Science of Goo," dissect an owl pellet and more! [more info]

Natural Beauty Inside and Out
Saturday, April 5, 1:00pm-2:30pm -- Meadowridge Branch
Join Jennifer Helmer of Wildwood Institute as she explores the ways in which herbs and foods can be used to promote and nourish healthy skin. [more info/register]

Open Code
Sunday, April 6, 3:00pm-5:00pm -- Central Library
Have you ever wanted to learn HTML and CSS? Do you have questions about a project that you're working on? Or maybe you just want a couple hours to work alongside other designers and developers. If this sounds like you, come to our weekly Open Code. [more info]

Bone Folders Guild
Wednesday, April 9, 6:45pm-8:45pm -- Central Library
For more info on Bone Folders Guild visit: https://www.facebook.com/pages/Bone-Folders-Guild/122421864480134

Craft Lab
Saturday, April 12, 3:00pm-4:15pm -- Alicia Ashman Branch
Not yer momma's craft class! Experiment with new techniques and supplies each month and love the results

Wii Games for Teens
Tuesday, April 15, 2:00pm-4:00pm -- Pinney Branch
Play a variety of Wii games including Super Smash Brothers Brawl, Super Mario Bros, & Wii Sports with your friends on the big screen! Beginners welcome. Refreshments provided by the Friends of the Pinney Library. No registration required.

Making Art with Teresa Getty
Wednesday, April 16, 1:30pm-2:30pm -- Meadowridge Branch
Find the artist within and create mini masterpieces with artist and teacher Teresa Getty. [register]

Faux Candy Wrapper Bracelets
Wednesday, April 16, 2:00pm-2:45pm -- Hawthorne Branch
Fold some colorful paper into a zigzag bracelet to wear - or give to a friend. For tweens and teens in grades 3 & up. [register]
Teen Video Game Club
Wednesday, April 16, 2:00pm-4:00pm -- Lakeview Branch
Monday, April 28, 3:30pm-5:00pm -- Lakeview Branch
Video games, friendly competition, and snacks. Show your friends and foes how to compete on the Wii.
Sharpie Poetry
Wednesday, April 16, 5:30pm-7:00pm -- Meadowridge Branch
Join us for a hands-on creative event: All you need in order to write poetry is a newspaper and a marker. We will use markers to take words away, and let poems emerge from the words we leave behind

Teen Book Club: Rot & Ruin by Jonathan Maberry
Monday, April 21, 3:30pm-4:30pm -- Pinney Branch
Meet at the Pinney Library for lively book discussions and snacks provided by the Friends of Pinney Library. All books are chosen by teens. Stop at the library for your copy of the book. No registration required.
Frozen
by Erin Bowman
In this sequel to Taken, Gray Weathersby and a small team of rebels set off on a frozen, icy journey in search of allies to help them take down the cruel Franconian Order--but they quickly learn that no ally or enemy is truly what they seem.
Hidden Girl: The True Story of a Modern-day Child Slave
by Shyima Hall
The author, Shyima Hall was eight when her parents sold her into slavery. In Egypt's capital city of Cairo, she lived with a wealthy family and serve them eighteen hours a day, seven days a week. When she was ten, her captors moved to Orange County, California, and smuggled Shyima with them. Two years later, an anonymous call from a neighbor brought about the end of Shyima's servitude-- but her journey to true freedom was far from over. Now a US citizen, she regularly speaks out about human trafficking and candidly reveals how she overcame her harrowing circumstances.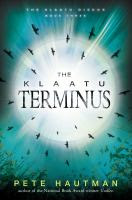 The Klaatu Terminus
by Pete Hautman
In the third volume of the Klaatu Diskos series, in a far distant future, Tucker Feye and the inscrutable Lia find themselves atop a crumbling pyramid in an abandoned city. In present-day Hopewell, Tucker's uncle Kosh faces armed resistance and painful memories as he attempts to help a terrorized woman named Emma, who is being held captive by a violent man. And on a train platform in 1997, a seventeen-year-old Kosh is given an instruction that will change his life, and the lives of others, forever.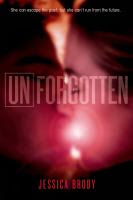 Unforgotten
by Jessica Brody
In this sequel to Unremembered, after a daring escape from the scientists who created her, Seraphina and Zen believe they are finally safe from the horrors of her past only to discover that new threats await them.